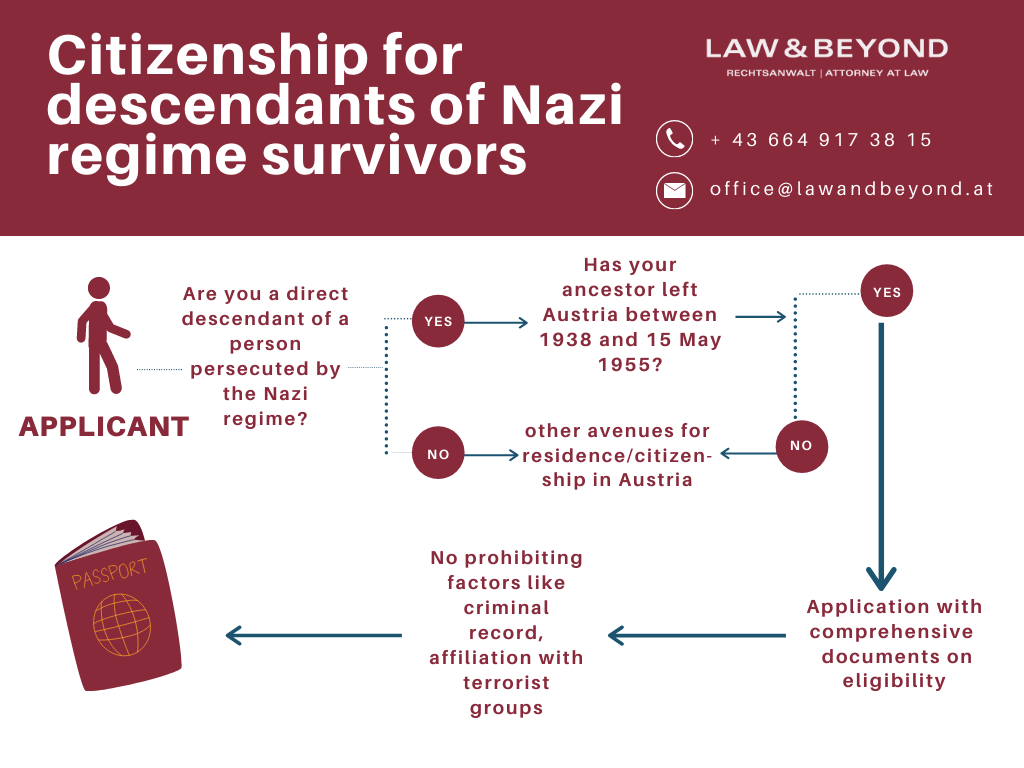 On 1 September 2020, a long awaited change to the Austrian citizenship will become effective (sec 58 c para 1a Austrian citizenship Act). It provides that also descendants of people who have been persecuted by the Nazi regime will be eligible for Austrian citizenship.
1.     WHAT ARE THE PREREQUISITES TO QUALIFY?
The prerequisites that an applicant must satisfy are
descent from an eligible ancestor ("anchor person") that satisfies the criteria below;

anchor person lived in Austria and held the citizenship or would have theoretically been eligible to hold the Austrian citizenship;

anchor person may also have been born in modern day Italy, Hungary, Serbia, Bosnia and Herzegovina, the Czech Republic, Slovakia, Croatia, Slovenia, Poland or Romania but lived in Austria up until their emigration and held the citizenship or would have theoretically been eligible to hold the Austrian citizenship;

anchor person has been persecuted by the Nazi regime or the Austrofascist regime, due to their Jewish faith, political activity, ethnicity or other factors – (especially an anchor person that is a survivor of the concentration camps will qualify);

anchor person emigrated from Austria between 1933 and 15 May 1955
2.     WHO QUALIFIES AS A DESCENDANT?
 Every person who descends in a direct line from an anchor person (so children, grand children, etc) is eligible to apply. A person who has been adopted by an anchor person while the adopted person was still underage qualifies as well.
Please note that your spouse may only claim citizenship under the new rules if his/her ancestors also qualify as an anchor person. Otherwise their access to citizenship would require you moving to Austria and the non-citizen spouse being a legal resident in Austria for at least six years.
3.     WHAT DO THE DESCENDANTS NEED TO PROVE?
In essence, two things:
a) direct descent from an anchor person;
b) eligibility of anchor person in the sense of the qualifying factors described above
Proof should be as comprehensive as possible, including among other things birth certificates, documents on being of Jewish faith, former passports or other forms of travel documents and personal identification documents. In lieu of such "clear evidence" other supporting documentation, e.g. of anchor person receiving a pension from Austria as persecuted person may be put forward.
Further information on the exact documents required are expected to be released by the Austrian government closer to 1 September 2020.
4.     DO I HAVE TO GIVE UP MY CURRENT CITIZENSHIP?
As a general rule, Austria does not allow dual citizenships. However, the rules for descendants of persecuted people provide an exception. If you are eligible for citizenship under the new rules, you may keep your old citizenship and hold the Austrian citizenship in the form of dual citizenship. Please however check whether taking on the Austrian citizenship may lead to you losing the citizenship you currently have!
5.     IS THERE A REQUIREMENT TO EXHIBIT GERMAN LANGUAGE PROFICIENCY OR KNOWLEDGE OF AUSTRIAN HISTORY?
Different from other forms of citizenship, qualifying applicants do not need to prove proficiency in German or their knowledge of Austrian history and culture.
6.     DO I NEED TO PROVE SUFFICIENT FINANCIAL RESOURCES OR VALID HEALTH INSURANCE THAT COVERS MY STAY IN AUSTRIA?
No, unlike other forms or residence permits and/or modes of obtaining the citizenship, there is no requirement to prove financial eligibility or health insurance.  
7.     WHAT ARE REASONS THAT WOULD DISQUALIFY ME AS ELIGIBLE FOR THIS FORM OF CITIZENSHIP?
The grounds for denying an application would be convictions for serious crimes, serious financial offences, having been deported from Austria with a residence ban, terrorist activities or a negative attitude towards the Austrian democracy, or where extending Austrian citizenship would jeopardize the diplomatic ties between Austria and a foreign nation.
8.     WHAT ARE THE STEPS NECESSARY TO OBTAIN THE CITIZENSHIP?
The applicant needs to apply to the competent authorities (in Austria or via the Austrian embassies), providing comprehensive documentation (see above in question 3) on fulfilling the necessary requirements.
9. IS THERE MILITARY SERVICE IN AUSTRIA?
Austria maintains a military service system for men with Austrian citizenship between ages 17 and 50. If you get the citizenship and intend to move to Austria, you must report to the military command responsible for your place of residence within 3 weeks and can be called up for basic military service (6 months) from the age of 18 to 35. As an alternative to military service, you could also opt for civil service.
10. CAN LAW & BEYOND ASSIST ME WITH MY APPLICATION?
Yes of course, we will be happy to assist you. Please reach out to us to arrange for a consultation call.